Established in December 28th, 2016, the Bobsled & Skeleton Federation of Nigeria was created as the first African bobsled federation. 
Executive Members include:
Aside from the snows of Kilimanjaro, you probably don't associate Africa with winter weather or winter sports. But three former track stars and athletes from Nigeria based in Texas, will be flying the country's flag for the very first time at the 2018 Winter Olympic Games in Pyeongchang, South Korea.
Their aim is to set the mark as the first representation in the sport for the country as well as the continent of Africa. For them, this is more than just about one Olympic goal or personal successes, "It's about trying to bring about a level of pride for everybody and expand on positive awareness for the country and the continent of Africa."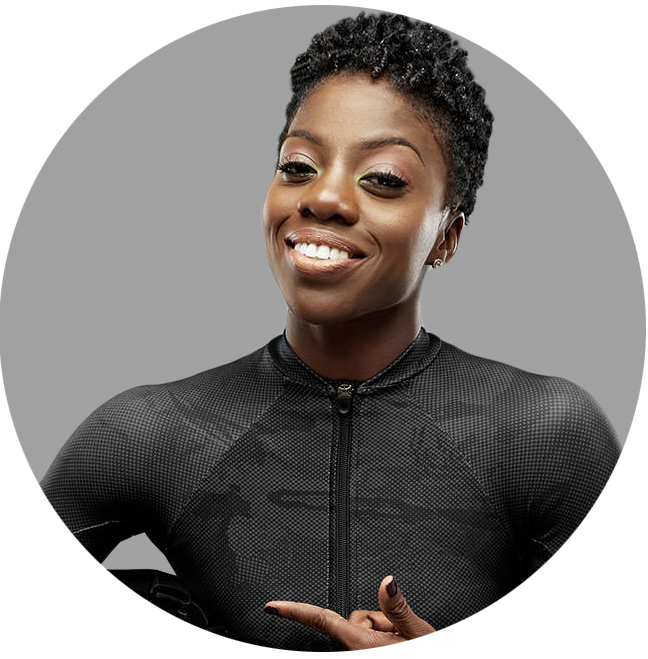 I met Ngozi during her Official track & field recruiting visit to University of Houston in 2009. It was my first season as an assistant track & field coach and her family was the first Nigerian group that I had the pleasure to share my experiences with, as I was fresh out of collegiate competition. I had concurrently transitioned into coaching and professional competition for Nigeria, so I was eager to share in all of my personal experiences and assist her in any way that I could. Although I was not the lead coach in her recruitment, I remained involved throughout the process. Her family eventually shared the great news that they had decided to sign a National Letter of Intent to University of Houston. Like with all of my female athletes, I did everything I could to mentor her and encourage her to positive growth athletically, educationally, spiritually, emotionally, and socially. Ngozi and I would have frequent meetings and discussions about life and the art of decision making – so it's safe to say that I was able to watch her blossom from an 18-year old girl to the strong, accomplished woman that she is today. After she graduated from University of Houston we remained in contact and I always made myself available to meet over lunch and continue our discussions on life. It was clear to me when I made the decision to start this Nigerian bobsled team that she would be the perfect candidate for the task. She was still very active in the professional sports world and her work ethic mimicked that of someone who would be willing to take on a selfless act and empower as many people as possible. From her entertaining character to her many natural talents, she possesses the perfect qualities to help me accomplish this goal. I trust her judgment and her ability to display greatness, and I believe her genuine character will be everything that this team needs to be successful.
One of my closest friends called me one day in the summer of 2016 to tell me that their "little sister", Akuoma, was moving from Minnesota to Houston and that they wanted me to connect with her. I didn't think twice about offering my time because anyone that they regarded as family would automatically be held at high regard in my book. I had the pleasure of meeting Akuoma shortly after she moved to Houston over lunch at one of my favorite barbeque restaurants. To my surprise, I was greeted by a fireball of energy and charisma! Her crazy and witty sense of humor lead to hours of conversation and future invitations for us to meet up at various events. I too felt like I had acquired the "little sister" I never had. I learned that she also ran track at University of Minnesota but her seasons were always plagued with injuries. I started thinking to myself that she would be a great person to add to this historic journey into Nigerian Women's Bobsled because if anyone deserved a true chance at reaching athletic greatness, I knew it would be her. Her determined and calculated personality coupled with her resilience and ability to persevere, were the exact characteristics that fit perfectly into this mission. When I extended the invitation for her to join the team she happily accepted and I knew at that point God had a special plan for what had become of our friendship.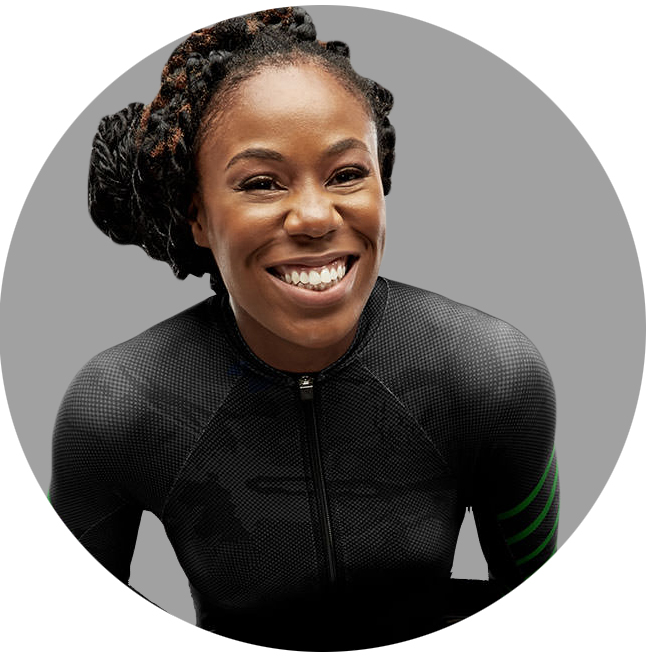 6 going on 7 years of great history. From coach, mentor, to friend and teammate; I met Seun Adigun through sports.  We have a long history and it has been quite a journey to explore our multidimensional friendship throughout the years. I initially met Seun through my recruiting process as a high school athlete looking for an athletic program to call home. I was instantly sold on UH; after meeting who I now have the honor of being teammates with-Seun Adigun. From there, it was history. The best feeling is knowing that you can not only depend on others but lean on them in hard times and without a doubt, I know Seun is one of those individuals, on and off the ice. Her role in my life has manifested in many forms.
Akuoma aka AK (the nickname she involuntarily acquired from me), whom I met through Seun a little over 3 months ago. Our first meeting was directed by Seun and accompanied by Jollof Rice. How can that ever be a bad time? Jollof Rice is happiness. Add Seun and AK to that mix, its Happiness +3.  Seun told me we would click and I feel we instantly did. I have built a solid friendship with AK and I am very happy to call her a teammate. I know through competition you create lasting experiences.
With that stated, Seun put together a great team. Our drive and competition traits not only match but also our personality traits. I look forward to competing and I cannot wait to embark on this road to the Winter Olympics with these ladies!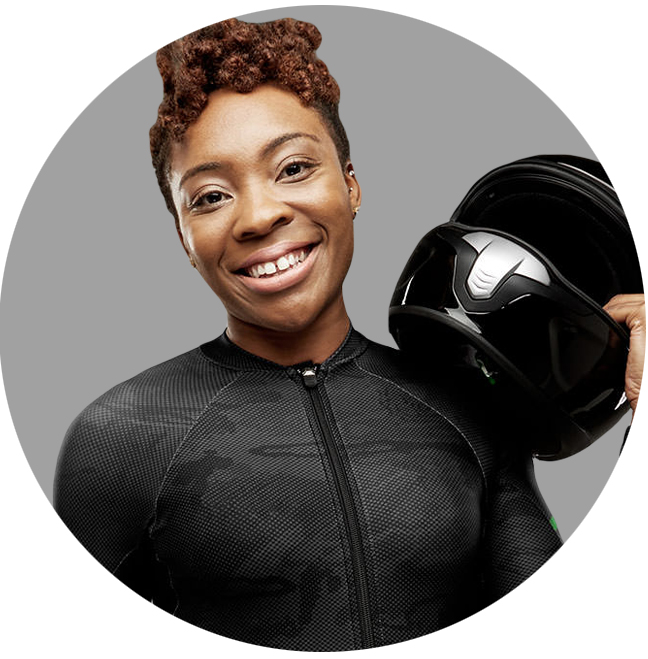 In summer 2016, I announced to friends and family that I would be moving to Houston, TX. A place where I knew absolutely no one. It was exciting news for some but others couldn't help but to be concerned. My "big brother" let me know that he had a friend in Houston and that she "would be a good person for you to know." He gave me her contact information and her and I struggled to meet for a good three weeks but we got it together. We met up at a BBQ restaurant in Houston and had a very striking conversation. I felt that we had initially bonded and throughout our conversation she mentioned she felt the same way. Something I will never forget is when she said "something happens when people build relationships, and just because we don't understand it all the time doesn't mean its not real…for instance, we could have seen each other and walked away, but we didn't. When I met you it seemed like we had known each other forever." And from then on, we remained as if we were two people who had known each other forever. She checked on me regularly and as I tried to keep her up to date as much as I possibly could. One Sunday in September she gave me a call when I was at the park and said something along the lines of "I have no idea how I got here…what do you think about taking this journey with me?" Here we are.
I met Ngozi at our first meeting regarding the Bobsled journey we were all taking together. I knew only a couple of things about Ngozi, one being that she and I were the same age and the other being she was an Igbo girl. I get to Seun's house, and I am eating rice and plantain and the doorbell rings. I kid you not, the very first thing this girl says is "Hey Seun!! I would hug you but I stink….oh I wouldn't have said that had I known someone else was in here," as she comes around the corner with eyes wide and a huge grin on her face. I instantly laugh an I gestured my hand in the "don't worry/ I could care less" notion. After that, I felt she was someone I could hang out with without judgement and we could share outlandish thoughts and still be on the same page. In all seriousness, we have never not laughed together since we've met.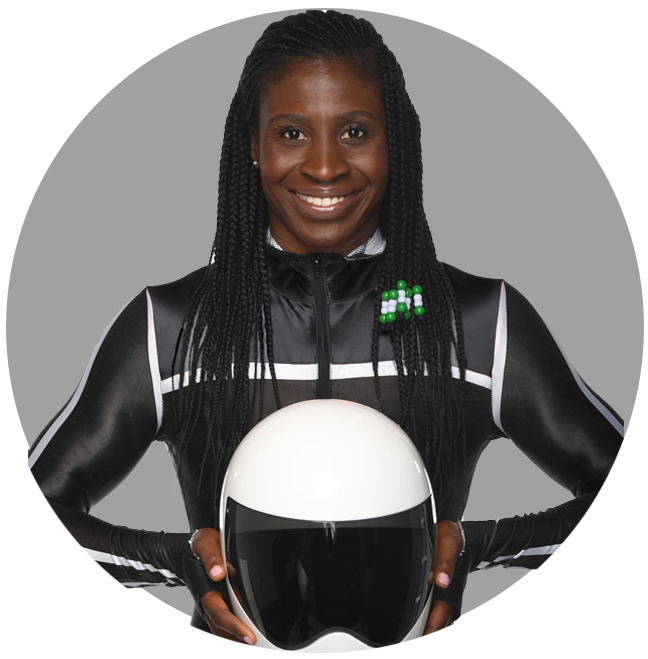 I first heard about the Nigerian bobsled team in December of 2016 and was immediately inspired by their audacious goal to be the first African bobsled team to qualify for the Winter Olympics. I read an article about the team and decided to reach out to them on social media to inquire about how to join the team. As they were building the federation, we kept in touch and I decided to take the 22-hour trip from my home base in Johannesburg, South Africa to Houston, Texas to participate in the first ever Nigerian Bobsled and Skeleton Federation try outs. After a successful try outs, I was invited for a team camp in Canada where I tried both the bobsled and skeleton. Ultimately, I saw a unique opportunity to apply my talent and serve my country in the sport of Skeleton and haven't looked back ever since. It's been an honor to break barriers in winter sports alongside Seun, Ngozi and Akuoma.