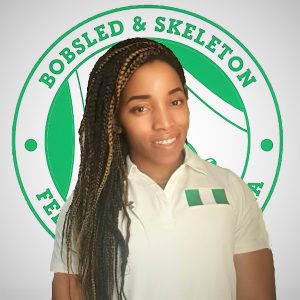 November 26, 2018
Ojeikere Aikhoje
Nigeria's Women's Bobsled Team is bubbling with excitement as preparation for the new season, started in Calgary, Canada, on Friday. There has been global attention on the Nigerian Team since the historic debut of the duo of Seun Adigun (Driver) and Akuoma Omeoga (Brakeman) at the Pyeongchang 2018 Winter Olympics, where they became the first African team to be represented in the category at the Olympics.
Ngozi Onwumere, the third member served as the flag bearer at Pyeongchang.
New Driver, Linda Okoro, kicked off her season driving and training, on Friday, November 23 and it will run through Saturday, December 1. "I'm excited to return to the ice and learn the Calgary track with new brakemen", she stated. Interestingly, others will begin trials to secure places in the team as interest has now hit an all-time high.
Training schedule includes push training in the Calgary Olympic Park, ice house, official combine test and track runs on the historic 1988 Olympic Bobsled course. Accompanying officials include, Adigun, who serves as BSFN Director & Global Ambassador, Olympic Team Chiropractor, Dr. Todd Riddle and new BSFN Head of Performance Training, Victor Omagbemi.
Adigun expressed satisfaction with the renewed interest amongst fresh athletes trying to make the Nigerian Team. "I am extremely excited to see that there are so many athletes that are passionate about growing the legacy of winter sports in Nigeria. It's beautiful to see others being influenced to contribute to the positive representation and progression of the country", she said.
In Riddle's words: "It is undoubtedly a blessing to be back with the team in Calgary for training camp. After such an exciting season and a historic trip to the 2018 Winter Games, a solid foundation has been set for an incredible future both Bobsled and Skeleton teams. I am honored to assist the athletes in staying healthy and ready to compete. I can't wait to see what they are capable of doing for Nigeria".
Nigeria is the first African Bobsled and Skeleton Federation to compete in the sport of Bobsled.