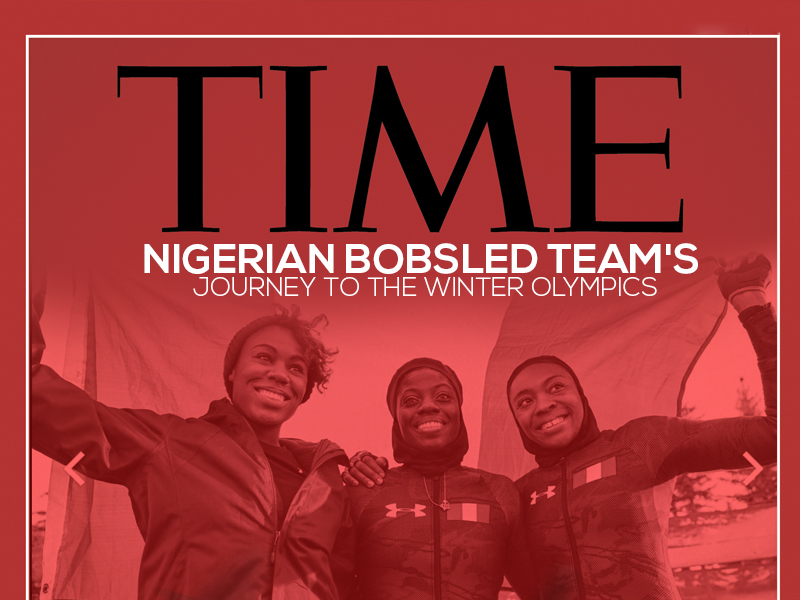 Seun Adigun launched a GoFundMe page in 2016 to help finance an outlandish Olympic pursuit: Start a women's bobsled team in Nigeria, a country with a sub-Saharan climate, and become the first team from Africa to compete in the sport at the 2018 Winter Games in PyeongChang, South Korea.
Like a character out of Cool Runnings—the movie that chronicled the Jamaican bobsled team's longshot journey to the 1988 Olympics—Adigun, 31, handcrafted a wooden training sled named the Maeflower, after her stepsister who died in a car accident in 2009 (her nickname was Mae Mae). Adigun depleted her savings while teammates Akuoma Omeoga, 25, and Ngozi Onwumere, 26, who are pushers on the Nigerian bobsled team, put white-collar careers on hold to slide around icy curves at 80 miles per hour.
When Adigun, who in December earned a masters degree in exercise and health sciences and became a doctor of chiropractic, pitched Nigerian sports officials about starting a bobsled federation, they seemed a bit bewildered. "You don't even have to be in Nigeria to be confused as to why three Nigerians who live in Texas are competing in the sport of bobsled," she says.
What started out as a quixotic quest has become another story worthy of Hollywood: Adigun and her sled have qualified for the 2018 Winter Olympics in the two-person event (the only one for women) in PyeongChang, having picked up Under Armour and Visa as sponsors. The athletes also landed a Beats by Dr. Dre spot. All the members of the Nigerian bobsled team are former top-flight college sprinters with dual Nigerian-American citizenship. Adugin went to Houston and ran the 100-meter hurdles for Nigeria at the '12 Summer Olympics, Onwumere also went to Houston and Omeoga attended Minnesota. When Adigun recruited Onwumere and Omeoga to join the Nigerian bobsled team, they were properly skeptical. "I guess I'm a sporadic thinker, or I make rash decisions, but I was like, 'yeah, sure,'" says Omeoga. "Afterwards, I was like, 'I need to call somebody else and get a second, third, or fourth opinion."
"Once she explained that this was for a continent," says Onwumere, "I was like, 'yeah, it would be absurd not to do it."
The Nigerian women train out of Houston, but they visited Nigeria last spring to promote their adopted sport. They received an enthusiastic welcome, even needing a security escort as crowds mobbed their future Olympians. "To bring us in with such open arms and accept what we're doing as almost heroic," says Adigun, "it was just beautiful to get that vibe."
Adigun hopes the Nigerian bobsled team will inspire more Africans to try winter Olympic sports. "There is no reason why people should feel like there's only one lane they need to stay in," she says. "Diversity explains to people that there are no limits in this life."
The Nigerian women likely won't bring a medal home. But the world, knowing that the team's mere presence at the 2018 Winter Olympics counts as an epic victory, will be watching. "I can't wait to get to that stage," says Adigun, "and give people every ounce of our passion."